Misc. Screwjack Lift Problems
"I got my tie caught in the screw"
Screwjack Lift owners often complain of the screw spraying oil on their shirts!
One dissatisfied customer even had his tie get caught in the screw, and his head pulled into the handtruck.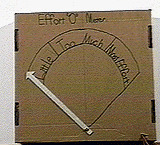 The Effort'O'Meter above shows that the Screwjack Lift is the Hard Way not the "Easy Way"
ScrewJack Lift Accessories

Screwjack Lifts use a Rube Goldberg collection of accessories which are not automatic and easy to use. Some have removable pins (instead of automatic latches) , which are slow to use and easy to lose. Security belts hang loose when not in use.

Escalera Accessories

Accessories for the Escalera StairClimber are instantly operable by a single operator in the field. It's as fast as Click Click Click. We have NO pins to remove and lose. NO belts hanging loose.

Short Battery Life

Screwjack Lifts put such a large drain on their batteries that according to a Screwjack company manual the batteries can "last up to a year"

Long Battery Life

Because of the energy efficient gearbox on the Escalera StairClimber, batteries last 2-4 years. That is up to 1200 charge/recharge cycles.
You can't load a minivan with the ScrewJack lift, unless the mini-van is a convertible.
Handtrucks for home delivery have traditionally been designed with a narrow profile. This is to allow for turning in narrow hallways and landings. The ScrewJack lifts excess depth can cause maneuverability problems in tight quarters
$crewJack type Lifts are very "expensive"** $$$$$$$ i.e. overpriced
**quote "expensive" from Connie Schachel 8/26/96
ESCALERA StairClimbers are very reasonably priced! Escalera works very hard to keep the costs of it's products reasonable. Escalera StairClimbers owners often say their Escalera is the best investment they ever made.
©1996 Screwjack.com All Rights Reserved