CAN'T GET NO SATISFACTION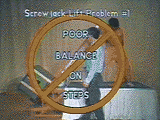 Because of the numerous problems associated with the Screwjack type lifts the ScrewJack Lift companies NEVER offer a money back customer satisfaction guaranty
Read the deceptive wording below quoted from a ScrewJack company web site...read it carefully!
"...and a one year warranty on the entire unit providing customer satisfaction and confidence."
For a REAL Customer Satisfaction Guaranty
visit the Escalera Web Site www.escalera.com
EVERY Escalera StairClimber EVER sold has been backed by an UNCONDITIONAL 60 Day Customer Satisfaction Guaranty.
Please check back to www.screwjack.com for future additions to this site...coming soon...Virtual Reality ScrewJack Lift World
And if you buy a screwjack lift...
Remember to lube your screw every day!
e-mail: info@screwjack.com
©1996 Screwjack.com All Rights Reserved